P L A G U E T I M E S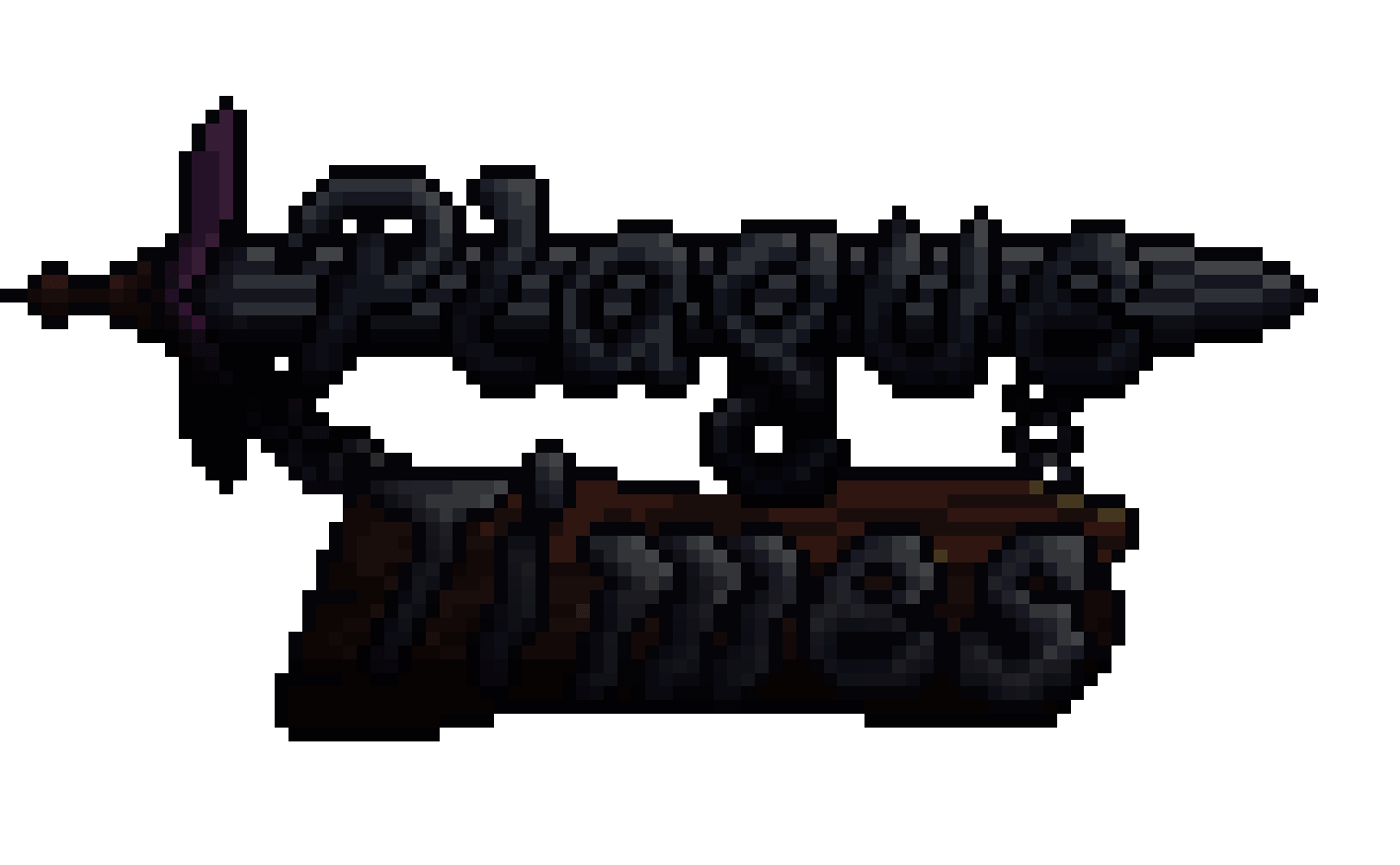 P L A G U E T I M E S
is a survival crafting game created in 72 hours for Ludum Dare 45.
It features:
Tools and Weapon Crafting
Structure Building
Endless Waves every night of monsters that attack you!
Resource gathering
Controls
WASD - Movement
C - Opens Crafting
Using Items:
| | | | | | | |
| --- | --- | --- | --- | --- | --- | --- |
| 1 | 2 | 3 | 4 | 5 | 6 | 7 |
| UnEquip Item | Hatchet | Axe | Pickaxe | Sword | Staff | Bow |

Mouse - Aim your tools/weapons
Move your mouse around to swing the tool at objects to harvest. This is the same for attacking with melee against monsters.
Mouse Left click- With a range weapon such as the bow or staff you can shoot projectiles by pressing LEFT CLICk
Team:
Ethan Bruins - @Bruins1993 - Code
Kal O'Brien- @kalobrienz- Art & Animation
Jaz Marshall-Porter - @jacbey_portes - Code
| | |
| --- | --- |
| Status | In development |
| Platforms | HTML5 |
| Rating | |
| Author | JestyJam |
| Genre | Survival |
| Made with | Adobe Photoshop, Unity |
| Tags | 2D, Action RPG, Crafting, Fantasy, Ludum Dare 45, Perma Death, Pixel Art, plaguetimes, Singleplayer |
| Average session | About a half-hour |
| Languages | English |
| Inputs | Keyboard, Mouse |
| Links | Ludum Dare |
Comments
Log in with itch.io to leave a comment.
i have tamed the unkillable slime
i have one thing to say , Why are there undefeatable slimes ?

probably because there are some things that arent working 100%
i've waited a year , did you get a little bit of the game done ?
Pourquoi l'avoir abandonner après?? C'est dommage l'idée la DA et l'atmosphère son plaisant... Mais après c'est compliqué
Had other things that took priority, like work unfortunately!
Juste atroce, moi qui aime les jeux de survie... Menu craft pas intuitive on ne sait pas combien de ressource il faut pour tel item et c'est pas faute d'avoir vidé une zone à me prendre la tête à agiter ma souris dans tout les sens pour faire bouger la hache... Non un clic gauche comme pour le reste c'est trop dure ?
À part une ou deux haches et un mur de pierre, j'aurai rien pu tester d'autre... De plus faut passer son clavier en qwerty... raccourci pas top de l'idée mais à peaufiner...
Hey, thanks for the feedback. This game was made in 72 hours and we haven't revisited it since the jam over a year ago. Sorry you didn't enjoy this free game.
*Opens game*This will be good :D*Intro. . .one enemy big guy with crowmask rides a crow that was flying*:D cool I get to see an enemy doing that*Starts game as hero floats and when using control keys it just moves the camera and not the player*Uh. . . *Survives first day*Ok. . .*Starts back at the main intro screen*. . .Imma just play this when it's fixed. . .

Downright unplayable; swinging the mouse only registers as a hit about a quarter of the time and it's not clear whether you're allowed to pick the order in which you craft items.
there's a scroll button next to the crafting area where you can scroll to see the different items you can craft.